Creating Your Library Account
Creating a library account allows you to monitor the library items you have checked out and to renew items that are already checked out to you. In addition, you will be able to utilize the Favorites and Tagging features of the Library online catalog.
For students and faculty in Illinois, creating a Library account is also necessary to request books through the online I-Share catalog. I-Share is an integrated library system that serves 90 academic libraries in Illinois.
First, access the Crowell Library's website at: http://library.moody.edu
You can access the Crowell Library online catalog by clicking on "Search" in the Catalogs tab of the second search bar:

You can bookmark https://vufind.carli.illinois.edu/vf-mbi/Search/Home for easy access to the online Library catalog in the future.
Click on the Login link located at the right side of the main Library search screen:

From the Library account login page, click on the Create New Account Link: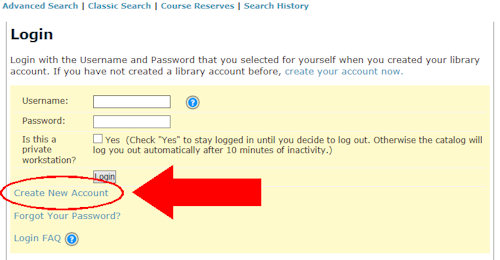 At the User Account screen shown below, fill in the Basic Information section. Please note that your library account Username and Password can be anything you want them to be: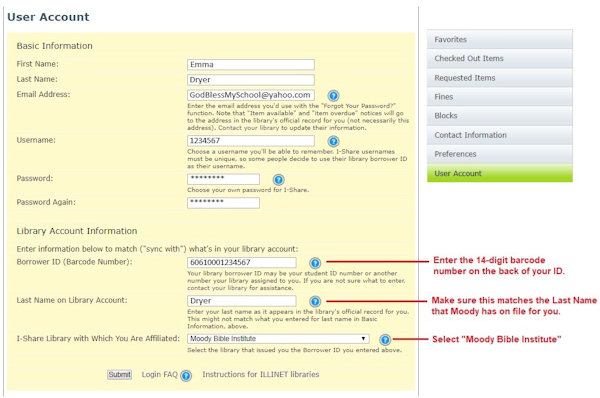 The email address you provide will be used for resetting your password if you ever forget your password.
To Request items through the library account portal, or to check the status of your library account, you will need to enter your 14-digit library borrower ID number and select the Moody Bible Institute as your affiliated library in the Library Catalog Profile section.
Note: Your Library Borrower ID is the barcode number found on the back of your ID card. If you do not yet have a library barcode, you can get it at the Circulation Desk on the first floor of Crowell Library.
Once the Basic Information and Library Catalog Profile sections are completed, simply click on Submit to save your account information.
Location Info
Moody Bible Institute
820 N. LaSalle Blvd.
Chicago, IL 60610-3284
Sweeting Center
(312) 329-4136
library@moody.edu
Hours
Spring Semester 2018

Mon - Th: 7:30am-Midnight
Fridays: 7:30am - 5pm
Saturdays: 9am - Midnight
Sundays: 6pm - Midnight
Full Library Calendar