Curriculum Lab (CurLab) and Juvenile Collection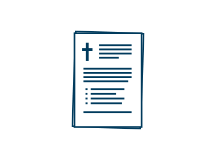 The Curriculum Lab and Juvenile Collection function as a resource center for use in educational ministries. These collections are located in the Sweeting Center on the first floor of the library and are primarily for student, faculty and employee use for classroom and individual projects.
Evangelical publishers have provided current and historical curriculum materials which have been produced for ministry in the local church and other Christian organizations. Several publishers send materials as new products become available. Additional curriculum and teaching resources are purchased by the library.
Holdings in the Curriculum Lab include materials for various Christian ministries, elementary education and Teaching English to Speakers of Other Languages (TESOL). Types of materials include reference books, textbooks, teaching aids and guides, professional resources, activity books, games, kits and manipulatives.
Holdings in the Juvenile Collection include children's books, games, puppets and other materials. We hold Christian and secular titles that are of use in Christian education and elementary teaching.
PLEASE NOTE: Moody Bible Institute does not endorse some material in this collection. Some books are present as part of the professional preparation of students in teacher education since their use is widespread in the public marketplace.
Hours

Mon - Thu: 7:30am - Midnight
Fri: 7:30am - 11pm
Sat: 9am - Midnight
Sun: 6pm - Midnight
Full Library Calendar