Music Library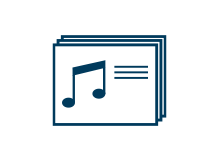 The Music Library is located on the lower level of the George Sweeting Center for World Evangelization on the central Chicago campus of Moody Bible Institute. The Music Library contains over 10,000 items in a variety of formats. This collection includes approximately 11,400 CDs and 5,700 scores.
Other music-related materials are also collected by the library and are located in the 780 sections of the Reference and Main Stack collections as well as in our online databases.
Mission Statement
The Music Library supports the mission of the Moody Music Department to train and discipline Christian musicians for the advancement of the Christian faith through music ministry. The purpose of the Music Library is to provide music for evaluation and listening for required courses. We strive to support the curriculum with supplementary resources.
Hours

Mon - Thu: 7:30am - Midnight
Fri: 7:30am - 11pm
Sat: 9am - Midnight
Sun: 6pm - Midnight
Full Library Calendar